Call for PSC Summer School: Responsible Research and Innovation in Plant Sciences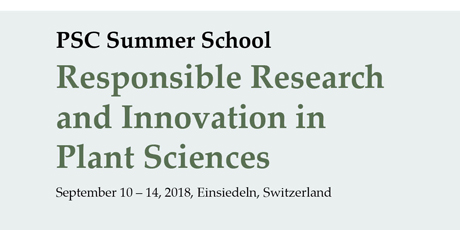 In 2018, the PSC is offering a summer school for Master students, PhD students and PostDocs.
Call for PSC Summer School 2018
The Zurich-Basel Plant Science Center (PSC) cordially invites students and postdocs to this year's PSC summer school "Responsible Research and Innovation in Plant Sciences", taking place from 10-14 September 2018 in Einsiedeln, Switzerland.
Social transformation through innovation and research are key elements in the discussion on how the global community could overcome its complex problems related to environmental and economic constraints in a resource-limited world. Innovation conflicts arise when transformation is mainly technological driven and not integrating ethical, legal and social issues. In response, scientists are asked to take a role in science-in-society dialogue.
What does science-in-society mean?
Knowledge that is adapted to societal needs is co-produced between different stakeholders including scientists. Spaces for social learning and transformation are created. Public engagement is key in this process – welcoming civil society actors as partners to express their values and interests in techno-scientific and innovation choices. We have to re-think the scientific research process, opening spaces for the public at the beginning of a research project to come together with the scientists and reflect on the question, which innovation and research should be fostered: By whom? Why? In which ways? Says who?
In this summer school, we will implement the responsible research and innovation framework (RRI) of the European Union to exemplary research field as plant breeding, smart farming, digitalization in agriculture or genome editing (CRISPR/Cas-method) in plant sciences and to your own research projects.
We guide you through the science-in-society research processes that includes the following dimensions: Anticipating a wide range of possible futures with the public and stakeholders. Become reflective about involved values and interests. Opening the research process to all actors, providing them with meaningful information, including different perspectives and expertise across a diversity of communities. And, be responding and adapting research to societal needs and views.
Invited speakers will give insight into their research field, conduct interactive workshops and take part in discussions. They will act as mentors in the case studies group work, which will be available as summer school proceedings.
Invited speakers:
Christian Pohl (ETH Zurich, CH)
Daan Schuurbiers (De Proeffabriek, NL)
Grégory Grin (Fri Up, CH)
Monika Messmer and Bernadett Oehlen (FiBL, CH)
Eduardo Perez (WFSC, ETH Zurich, CH)
Jochen Markard (ETH Zurich, CH)
Melanie Paschke (Zurich-Basel Plant Science Center, PSC)
Registration
Registration opens March 1st 2018 until April 15th. MSc students, PhD students and PostDocs at University of Zurich, ETH Zurich or University of Basel are eligible. MSc students, PhD students and PostDocs from other national or international universities are welcome if places are available.
Applicants will submit the following items as a merged PDF:
(1) CV, (2) a letter of motivation (5-10 sentences).
Registration is possible via this link: www.registration.ethz.ch/spsw