«I enjoy being able to choose my own topics.»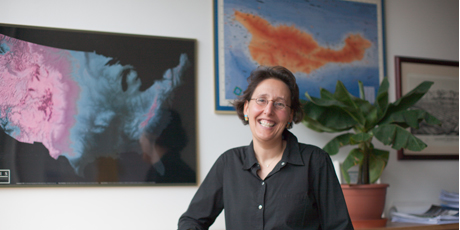 Prof. Dr. Sara Irina Fabrikant
Geographer, Geographic Information Visualisation & Analysis.
Career
1988 – 1990
Degree in History, UZH
1990 – 1996
Degree in Geography, UZH
1993
Rotary exchange scholarship, University of
Canterbury, Christchurch, New Zealand
1996
Diploma in Geography, UZH
1996 – 1999
Ph.D. Studies in Geography, University of Colorado, Boulder, USA
1999 – 2000
Visiting assistant professor, University at Buffalo, State University of New York, USA
2000
Ph.D. in Geography, University of Colorado, Boulder, USA
2000 – 2005
Assistant professor, University of California, Santa Barbara, USA
2005 - 2013
Associate professor in Geography, UZH
2009
Visiting professor, San Diego State University, USA
2013
Full professor at the Universitzy of Zürich, Switzerland
2013/2014
Visiting Scholar at Harvard University, Cambridge and UCSB Center for Spatial Studies, University of California Santa Barbara, USA
Have you experienced any dry spells or disappointments in your career? How did you overcome them?
When I was writing my dissertation things were very difficult in terms of the working environment, and on occasion I was almost ready to give up. But ultimately there was no question of abandoning my dissertation. I had chosen the topic myself, and giving up would have felt like a personal failure. Now my motto is "Now more than ever"!
Who has given you the most support during your career? And what about in your personal life?
Professionally I had the great fortune to always have good mentors – all of them men, as it happens. On a personal level, my parents have always supported me and given me a great deal of freedom.
How do you make sure you have a good work-life balance?
My partner and I are very sociable. We have an international circle of friends we enjoy spending time with, and we like to travel. Sports, especially running, are also an important part of my life – I would love to run a marathon one day.
What advice would you give to ambitious young female researchers?
You need courage, self-motivation, flexibility, the willingness to go abroad, and, most importantly, a subject that genuinely fascinates you. Try to become part of an international network as soon as possible. Do what is most important to you, and don't compromise.
Department of Geography
University of Zurich
Winterthurerstrasse 190
CH-8057 Zurich
Tel. +41 44 635 51 50
sara.fabrikant (at) geo.uzh.ch