Science and Operations Service team up for a clean Irchelpark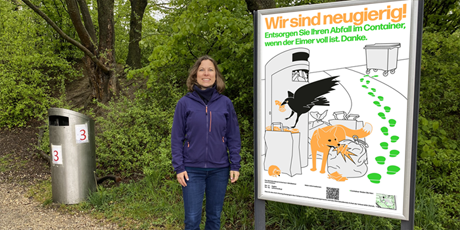 Avoiding litter is an important topic of open space management. An anti-littering campaign is currently being carried out in Irchelpark.
Preventing littering in nearby recreational areas is an important topic in public health, sustainability, and open space management. Therefore, the "We are curious!" anti-litter poster campaign takes place in April – May in the nature-oriented 32-hectare Irchelpark in Zurich.
The campaign is built on the findings of the "Sauberer Irchelpark" project and structural measures from previous years. The goal of this year's awareness campaign is to motivate park visitors, such as students and employees from UZH or local residents, to no longer place their waste - some of which is neatly stowed in bags and sacks - next to one of the litter bins because of the wild animals living in the park, but to put the garbage into the nearest empty waste container; even if this means a few extra steps at best.
For this purpose, awareness posters have been put up until June 5th at several locations in Irchelpark and the volume of waste before, during and after is systematically photo-documented and evaluated. The campaign is carried out by the Irchel Campus Usage Management, a joined office by MNF, MeF and Vetsuisse faculties, together with the Operations Service Irchel, Scientific Visualisation and Visual Communication, and the Social Psychology Institute UZH. The results are expected in late summer.

Contact
University of Zurich
Dr. Barbara Degenhardt
Irchel Campus Usage Management UZH
Email: barbara.degenhardt@uzh.ch
Further information:
https://www.nutzungsmanagement.uzh.ch/en/AntiLitteringIrchelpark1.html