FameLab 2019: Get ready for the challenge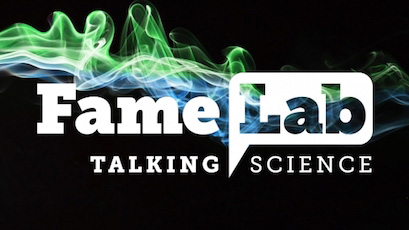 The international competition for science communication is open. Register now!
Are you a student and passionate about science, and think it is your duty to share it with the society? You love to entertain your family and friends with the latest scientific discovery or fun science facts? You like to challenge yourself and test your public speaking skills?

Come and join FameLab 2019, the international competition for science communication, and become the new face of science in Switzerland!
Amaze audience and jury with an original 3-minute talk on a scientific topic of your choice. Be scientifically accurate, but understandable and fun! No slide allowed but you can bring on stage props or your best costume!

Get inspiration by 2018 winner of Swiss FameLab, Dmitry Kopelyanskiy, 2018 FameLab International winner Siti from Malasia, and more!
The competition is open to everyone studying or working in STEM subjects (life sciences, technology, engineering, geosciences, mathematics, physics, chemistry and social sciences).

The FameLab events for 2019 have been planned as follows:
Semi-finals:
March 1, in Basel (German or English)
March 7, Lausanne (French or English)
Masterclass weekend
at CERN in Geneva, on March 23-24 for the 10 finalists,
Swiss final in Bern, on April 4,
International competition
at Cheltenham Science Festival, on June 4-9.
Registration
Register now for FameLab Switzerland 2019 here! Please check that you are free on each planned date, and your eligibility on the detailed rules before registration.

Questions?
Contact FameLab Switzerland via info@lifescience.uzh.ch.