Imaging spectroscopy Article Makes it to the Cover of Methods in Ecology and Evolution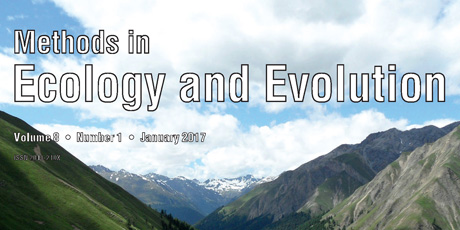 An article by Anna Schweiger, Martin Schütz, Anita Risch, Mathias Kneubühler, Rudolf Haller and Michael Schaepman makes it to the cover of Methods in Ecology and Evolution.
Photo © Christian Schmid
This cover of issue 8.1 of the Journal of Methods in Ecology and Evolution shows the the Trupchun Valley, located in the Swiss National Park (SNP). Studying the development of nature in the absence of human interference has been a key objective since the SNP was established in 1914. Assessing dynamic vegetation changes has played an important role in the SNP's research tradition, with the establishment of fi rst long-term observation plots by Josias Braun-Blanquet already in 1917. Comparing vegetation maps produced for nearly 100 years motivated our research on "How to predict plant functional types using imaging spectroscopy: Linking vegetation community traits, plant functional types and spectral response". Despite these maps being elaborate, they either lack the spatial coverage or detail to allow us to understand how inter- and intraspecific plant trait variability and diversity patterns are influenced by topography, microclimate, herbivory and former land use.
The researchers were excited to find strong relationships between plant life/growth forms, strategy types and indicators, and biochemical and structural vegetation traits which determine the spectral response in optical remote sensing instruments. Linking vegetation community's functional signatures to spectral signatures allowed them to accurately predict plant functional types using airborne imaging spectroscopy, substantially advancing our understanding of ecosystem processes in space and time.
Further reading:
Anna K. Schweiger, Martin Schütz, Anita C. Risch, Mathias Kneubühler, Rudolf Haller and Michael E. Schaepman, How to predict plant functional types using imaging spectroscopy: linking vegetation community traits, plant functional types and spectral response, http://onlinelibrary.wiley.com/doi/10.1111/2041-210X.12642/abstract