Büroccoli and Strebergärtli – student's garden projects @UZH Science Campus Irchel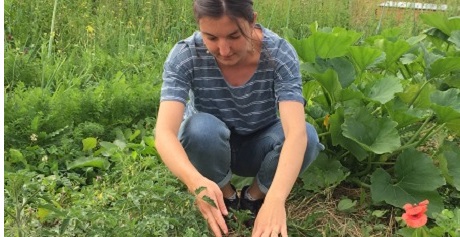 Beetroot, beans and broccoli - veggies are now growing where environmental field studies used to be carried out. Strebergärtli – as the students call their collaborative garden – is located at Züriberg and has been operative since this spring.
Manuela, a master student in Geogaphy, is opening the gate to the Strebergärtli, which - despite the diminutive in its name - is with its 1000 square meters quite impressive: Between plants for green manureing and special bee feeding the visitor finds large patches with veggies ranging from salad, to carrots and almost everything cultivable in our latitude. «We plant based on the strip cultivation sytem and use where ever possible seeds by Pro Specie rara», explains the young gardener. They also experiment with elements from the so called «permaculture» as a construction with collected fieldstones indicates: The sun-trap – as such a construction is called – is for vegetables requiring high temperatures.
Winner of the competition «Make Irchel Greener»
«Strebergärtli» and its smaller cousin «Büroccoli» – a starter kit for a miniature garden on the window board in the office – won the first prize in the competition «Make Irchel Greener» launched by the MNF Sustainability Committee. Originally, «Strebergärtli» was planned as a cluster of raised beds directly on Campus Irchel. But things did turn out differently: «When we were offered a section of land no longer used for field studies by the Institute of Evolutionary Biology and Environmental Studies, we did not hesitate long», says Manuela. Given the sheer size of the patch and the little practical gardening experience of the students, this was a rather bold decision. Originally the young gardeners had planned to break up the soil by hand. After one day of hard labor with spades, shovel and pick they decided to go for machine power and hired a farmer who broke up the soil for them this spring.
More amateur gardeners wanted
The «Strebergärtli» amateur gardeners are organized as a club. Its members communicate via Facebook «Irchel Garden Project» and Whatsapp in order to fix their dates for their garden work. For an annual fee of twenty Swiss Franks UZH students and staff as well as neighbors can participate in the collaborative garden project. If you are interested please contact the group via Facebook or email irchelgarden@mnf.uzh.ch