Irchel Nature Trail - Grand Opening on 22 May 2019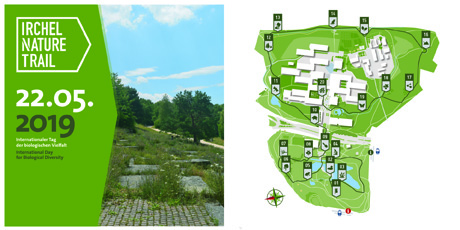 The Irchel Nature Trail is an educational trail through the Irchel Campus and Park.
In twenty knowledge station, topics such as wild bees, birds, and mammals are discussed, but also concepts such as microbiome, ecological resistance or commensalism are explained.
The idea for the trail came from two PhD students, Alejandra Parreño and Katie Horgan who submitted their project proposal to the MNF Sustainability Committee's competition "Make Irchel Greener". The realisation of the project was then made possible through the cooperation and financial support of:
• Faculty of Science (MNF)
• Swiss National Science Foundation Agora Project "Biodiversity Means Life"
• Science Lab UZH
• University Research Priority Program Global Change and Biodiversity
• MNF Sustainability Committee
On the International Day for Biological Diversity, 22 May 2019, an opening ceremony will be held. It will be followed by guided tours through the trail. The visitors will have the opportunity to talk with researchers from the University of Zurich about nature in the Irchel Park.
DATE: Wednesday, 22. May 2019
TIME: 14:00 - 17:00 h
VENUE: Campus Irchel
For more information regularly clicke here or send an email to Dr. Morana Mihaljević