New@MNF: Theoretical particle physicist Peter Stoffer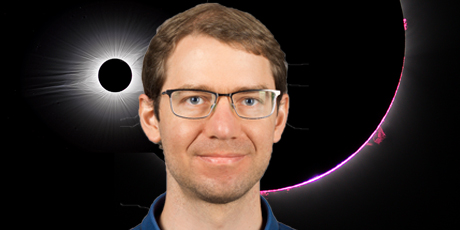 Particle physicist Peter Stoffer has an SNSF Eccellenza Professorial Fellowship for five years. He joined the MNF of UZH and the PSI on September 1.
How was your first month at the Faculty of Science?
Peter Stoffer (PS): Thank you, I had a very good start and was surprised with a great bouquet of flowers. I am particularly pleased that I am already involved in teaching: my lecture on effective field theories is close to my research and is designed for master students and young PhDs.
How do the Corona restrictions affect your activity?
PS: Compared to last year, when I was at the University of Vienna, it is much more relaxed after all. I especially appreciate that university activities are back on site - the discussions and meetings are so much more efficient when you can stand together in front of a blackboard. With my field of research, I am of course used to international collaborations and Skype meetings. Nevertheless, I immensely value working directly with people.
Why did you choose UZH as your host? What are the roles of UZH and PSI in your setting?
PS: The choice of UZH as host institution is primarily a thematic one. At the Physics Institute of UZH, there are various research areas with contacts to my own research. This setting is ideal for an enriching exchange. The Paul Scherrer Institute (PSI) is a strong research institute and well-known around the world for its precision experiments. There are also close ties between UZH and PSI through Adrian Signer, among others. All in all, this provides an ideal environment for me and my research. I spend half of my time at UZH and half at PSI.
Where would you like to be in five years?
PS: It is hardly possible to plan a research career in detail. My goal is to have a permanent academic position in Switzerland in five years. Currently, I am very happy about my Eccellenza Fellowship and the great opportunities it offers me as a researcher, both at UZH and at PSI.
Where did you study? What career stages did you complete and where?
PS: I studied astronomy and physics in Bern and did my PhD in theoretical particle physics. I then spent two years as a postdoc at the Helmholtz-Institut für Strahlen- und Kernphysik in Bonn and another three and a half years at UC San Diego, two of which were funded by an Advanced Postdoc Mobility grant from the SNSF. After that, I was a university assistant at the University of Vienna for one year on an advanced postdoc position.
How do you explain to a twelve-year-old child what you are researching as a theoretical particle physicist?
PS: A challenging task. First, I would have to explain particle physics. Particle physics aims to understand how elementary particles make up the matter that surrounds us and what effects these particles have on each other. The Standard Model of particle physics describes many areas and forces very precisely. However, we know that the Standard Model is incomplete. I am looking for new heavy particles that do not exist in the Standard Model and that have not yet been observed in any particle collider experiment. There are two ways to search for such new particles: the direct search and the indirect search. I dedicate myself to the indirect search, i.e., I look for small deviations between measurements and theoretical predictions. To do this, on the one hand I improve Standard Model predictions, on the other hand I further develop the theory describing deviations from the Standard Model. A concrete example: I am working on specific muon decays, which are being searched for at PSI, but are forbidden within the Standard Model.
Where does your fascination for physics originate?
PS: I was already interested in astronomy when I was in second grade. My parents then gave me a small telescope. It was clear to me that I wanted to become an astronomer. The fact that I switched to particle physics during my studies was due to the exciting topics offered for bachelor's and master's theses and the way my supervisors conveyed their own enthusiasm. Astronomy still fascinates me, though, and I am an avid amateur astrophotographer: I was able to get some great shots of the 2017 total solar eclipse in Oregon.
How will you build your group and over what period? What qualities does someone need to have in order to do a PhD with you?
PS: I have already hired a first PhD student, and I plan to fill a second PhD position and a postdoctoral position by fall 2022. Basically, I am looking for someone who is fascinated by the topic and has already demonstrated the necessary stamina. It is also important to me that the person has good prerequisites for independent research and that the chemistry between us is right.
Image: Peter Stoffer is seen in front of two of his astronomical photographs.