#New@MNF - Prof. Tina Perica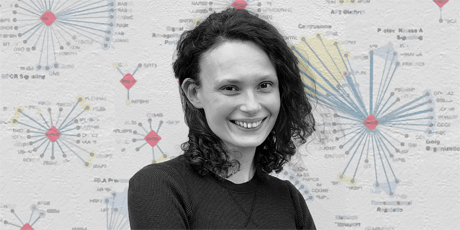 Before coming to UZH Tina Perica was a postdoctoral associate at the University of California, San Francisco. She started on July 1st at the Institute of Biochemistry as a tenure track assistant professor.
Croatia born Tina Perica combines biochemistry and system biology in her research.
Due to SARS-CoV-2 restrictions she accepted the position at the UZH's Faculty of Medicine and Faculty of Science without visiting the University in person.
How has your start been and where are the special challenges in setting up a lab and a research group under the current Corona regime?
Tina Perica (TP): The whole hiring process took place under Corona-restrictions: When I was applying for this position the US government had issued regulations that non US-citizens were not allowed to re-enter the country. As I had my husband and daughter, and my job in California, I could not travel to Europe. So, I accepted the UZH's offer blindly – without having been here physically and without having seen the institute or lab and office space. I only met my future colleagues over Zoom!

Quite a leap of faith. How has it turn out?
TP: So far, so good, no regrets! I think even if I came to visit in person, it would still be a giant leap of faith. Even if you are able to spend three days or so in a place, there are still many more things you don't know than the ones you do, before you accept a position. But of course, being finally at Campus Irchel facilitates things enormously. I am currently setting up my research group, my lab and office space and am very grateful that I can count on my floor neighbours from the Plückthun group who are helping me set up.
Have you brought researcher from your former group and how do you find PhD students here in the current situation?
TP: I am starting here from scratch! But I am in a good situation. I am part of the Life Science Zurich Graduate School and the pool of PhD candidates is great. I am hoping to hire one or two PhD students soon.

What are you looking for in your PhD students?
TP: Well, I have never hired anyone before, so I am not sure. But I think I want the "science chemistry" between us to be good. I hope to find students who are brave and motivated. It is easier for me to be the voice of reason in the team, than to be the one encouraging the students to be bolder in their approach. I am also looking for kindness and scientific modesty. I would not have thrived enough to become a professor today, if my mentors did not maintain a good and kind culture in their labs. I do not ever want a student of mine to be anxious to come to the lab. I hope that the times where "everything is forgiven, if you are successful" are over in academia.
You have done your PhD in Sarah Teichmann's lab at the University of Cambridge. Teichmann is beside her scientific standing known as an activist for enabling female scientist. How has this shaped you?
TP: I have learnt a lot from Sarah – both as a researcher and on a personal level. Sarah is kind, brave and successful and really stands up for the members of her group. Even now, if I am in a challenging professional situation, I ask myself "what would Sarah do?". Scientifically, Sarah's lab is where I learned bioinformatics and computational biology approaches, and thinking broadly about biology.
You spent almost eight years with Tanja Kortemme at the University of California, San Francisco. How has this time and experience shaped you?
TP: I loved the lab and living in California. But it was quite a journey scientifically. I wanted to launch myself into system biology and I was lucky to win a fellowship from the Wellcome Trust that enabled me to spend the first couple of years learning and exploring new directions. In the end, I feel this exploration payed off and I managed to use all the new things I learned to shape myself as a scientist. I hope now that this niche I carved for myself will develop into a successful research direction.
You study protein structures and their function on a system level by combining biochemistry and computational biology. How important is it that the same person who does the experiment analyzes the data? Possible downsides?
TP: My research produces a larger amount of data than a typical biochemistry experi
ment. We also use many methods and there is an added challenge of integrating different types of data. There is no standard way of analysis in this kind of work. For that reason, if the same person understands the biological, biochemical and statistical aspects, they might recognize relevant and interesting patterns faster. But of course, such "a jack of all trades and master of none" might end up "reinventing the wheel", or simply not have enough specific biological or mathematical knowledge. That is why it is important for us to always discuss our questions with specialists from different fields.
How do you explain your research approach to somebody with no background in biology?
TP: Biochemistry looks at an isolated protein by putting it into a buffer and investigating its properties with various methods. Genomics and proteomics look at hundreds or thousands of genes and proteins in the cell at the same time. I am interested in combining the two: how do biochemical properties of proteins interact with each other in the cell.
How is your research funded?
TP: At the moment, I am supported by the startup money I received from the UZH. I feel I am very lucky, this core funding by UZH is a great advantage and makes a huge difference compared to the funding situation in many other places. I am currently writing grant applications to raise more money for my research.
Thank you for your time!