UZH Days of the laboratory animals: 20. und 23. April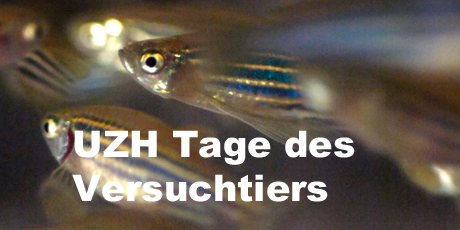 First hand information about experimental animal research at UZH for employees and students.
As a UZH staff member oder as a student you are offered the opportunity to get first hand information regarding experimental animal research carried out at UZH during the lunch lectures and ask the speakers your questions.
Furthermore you have the opportunity to visit the animal facility at the University Hospital and in Schlieren.
Lectures in German
Freitag, 20. April 2018
Zeit: 12.00 Uhr bis 13.45 Uhr
Ort: Campus Irchel, Winterthurerstrasse 190
Hörsaal: Y15 G40
Verbindung zwischen Hirn und Körper: Einsicht durch Tierstudien
Prof. Dr. Christopher Pryce, Departement of Psychiatry, Psychotherapy and Psychosomatics, MeF, UZH
Doppeltes Vermächtnis – oder was Kindererziehung mit menschlicher Evolution zu tun hat
PD Dr. Judith Burkart, Anthropologisches Institut und Museum, MNF, UZH
Lectures in English
Monday, 23. April 2018
Time: 12.00 hrs to 13.45 hrs
Place: Campus Irchel, Winterthurerstrasse 190
Lecture Hall: Y24 G45
Learning to control the intestinal microbiota
Dr. Emma Slack, Institut für Mikrobiologie, ETH
Challenges in designing and implementing in vivo pre-clinical studies
Dr. Salim Darwiche, Musculoskeletal Research Unit, Experimental Surgery Department, Vetsuisse Faculty, UZH
Guided tours (available in German only)
Tierhaltung USZ «Landwirtschaftliche Nutztiere in der translationalen Forschung»
Dienstag, 24.4.2018
Mittwoch, 25.4.2018
Zeit: jeweils 14.00 bis 16.00 Uhr
Tierhaltung Schlieren «Haltung und Zucht von Labornagern»
Donnerstag, 26.4.2018
Freitag, 27.4.2018
Zeit: jeweils 14.00 bis 16.00 Uhr
Anmeldung erforderlich. Bitte berücksichtigen Sie die Hygienevorschriften.