Prof. Kai Niebert met and discussed with Chancellor Angela Merkel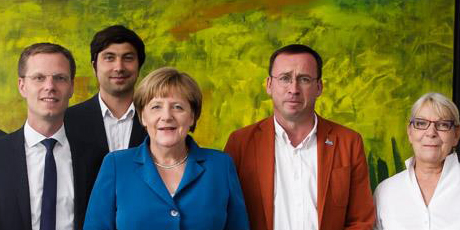 MNF-double professor Kai Niebert (at the far left) met and discussed with the German Chancellor Angela Merkel on July 12th.
The German Chancellor welcomed the new president Prof. Kai Niebert of the German Naturschutzring the umbrella organization of all German conservation and animal protection organizations. Niebert discussed with the Chancellor about the future of biodiversity and agriculture and the importance of science communication. Niebert is a double professor (Art and Letters/ Faculty of Science) and does - among others - research at the Science Lab.